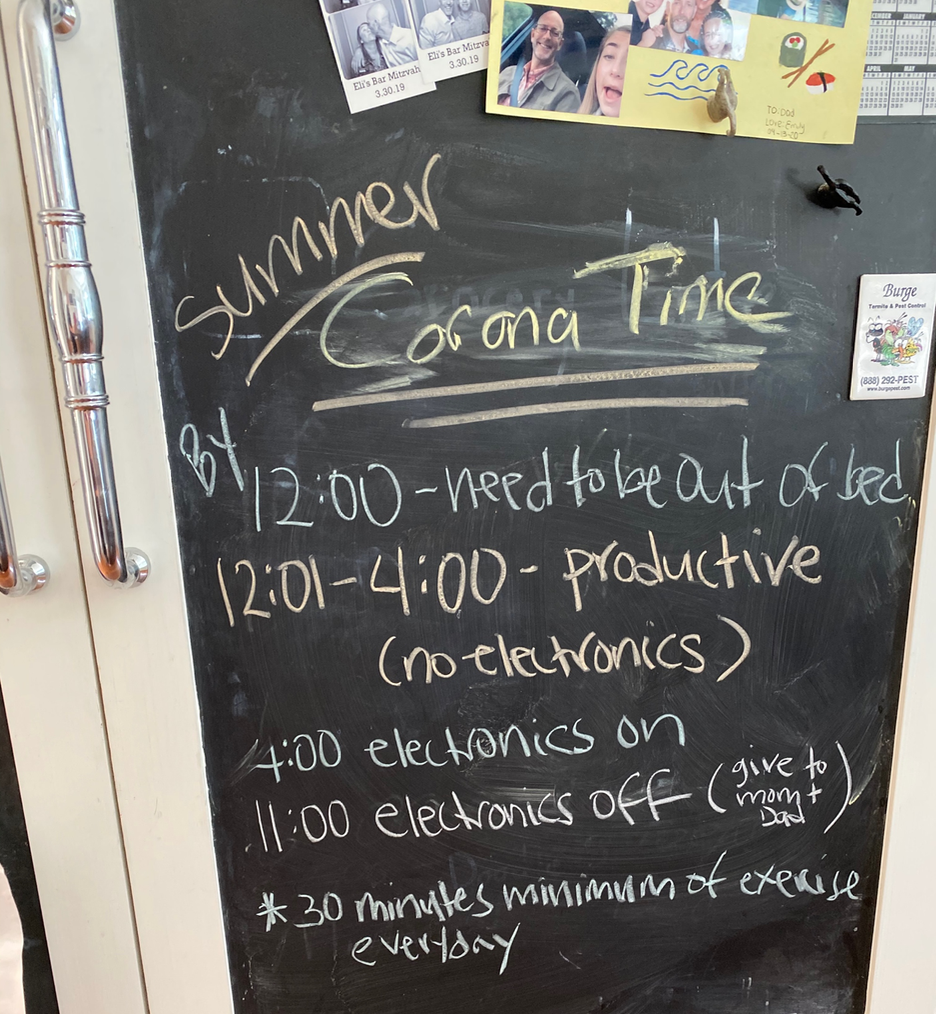 Quarantine 15?
By Kelly Blake, Executive Vice President
What day is it? At Blue Creative Group we have been quarantined in locations ranging from Oakland, CA to Boulder, CO, to Newburyport, MA and Fairfield County, CT. Dave got a puppy during this time, giving him new inspiration. Jason is home writing content accompanied by his daughter, a  young teenage violinist. Andy is cooking delicious meals from scratch daily, after conference calls and client meetings. George is leading several initiatives while hunkered down with a spunky toddler while Kelly breaks up a busy PR schedule with the help of two teenagers who have mastered the eye roll. All in a day's work.
We have noticed and are inspired by so many brands pivoting, doing good work and being creative. Companies stepping up or people doing good.
Personally, I look forward to Some Good News weekly editions by John Krasinski. Although, a box of Kleenex is required every single episode. How about the latest poem from Tom Foolery?
Some of the bigger CPG brands did creative things with their logos to use them to educate consumers about social distancing, McDonald's and Audi famously added gaps to their logo elements. Coca Cola wanted to thank the front line workers and created messages in their iconic bottles.
Creativity comes in many forms. We're trying to avoid the Quarantine 15, you know, weight gain like the freshman 15. Are we all sitting around more, eating more, and moving less while on lockdown? Did you hear about a British man who ran a marathon in his 20-foot backyard during the coronavirus lockdown— while thousands tuned in for this guy in New Hampshire. Our client Sufferfest Beer Company, makers of low-calorie beer that tastes great beer, just launched a program with Strava to motivate athletes at any level to get moving, The Sufferfest Beer Challenge, and it has prizes!
It's wonderful to see all of those foundations and charities giving back to communities, frontline workers, and anyone in need. A big one that has athletes to celebrities donating amazing access to their lives is the All in Challenge, which has already raised millions and millions. The Tonight Show Starring Jimmy Fallon, Home Edition, always gives a shout out to the charities that his guests are supporting. Last night Mila Kunis and Ashton Kutcher talked about their Quarantine Wine where 100% of the proceeds go to multiple relief efforts for Covid 19. Wine, isn't everyone drinking more these days? And now Jimmy Fallon is even more relatable, working from home with his daughters and all the struggles we working parents have. Although, he has a slide in his living room.
If there is a silver lining in all of this chaos, it has shown how people change to their lives at a fundamental level and have a positive impact. Our client Gevo, Inc.,makes advanced renewable fuels that make a similar kind of change to our environmental impact, and we can even drive the same cars and fly in the same planes we have now. The company introduced this video on Earth Day explaining its technology. And its potential to achieve net-zero carbon emissions with sustainable alternatives.
What's next? Stay tuned as the Blue Crew uncovers more marketing and life gems as we live through these uncertain times together….or really apart, but together on Zoom.